Devizes Area Tourism Partnership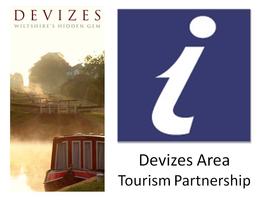 We are delighted to welcome you to Devizes and would like to help you enjoy your visit to the town and the local area.
Devizes has just been awarded the prestigious award of a coach friendly town.
Use this website to find out more about the town and the local area, or when you are visiting us, you will find a warm welcome, advice and help at the Visitor Information Points listed below.
These all display the while & blue "i" Tourist Information symbol outside their premises.
Wiltshire Museum
Devizes Town Council (Town Hall)
Wadworth Visitor Centre
Kennet & Avon Canal Trust
Devizes Passengers
Crown Centre
Devizes Books
Travelwise
If you need help with travel information, then more specific advice can be obtained from:-
Travelwise (coach travel, and other public transport)
If you are looking for somewhere to stay, then please contact the Devizes Area Graded B&B Accommodation Providers on 01380 620660. They maintain a list of current room availability and will be able to help you.
Visitor information services are provided by the Devizes Area Tourism Partnership, a group of people and organisations working together on a largely voluntary basis. You may contact us by emailing
This email address is being protected from spambots. You need JavaScript enabled to view it.
or telephoning 01380 800400 – the telephone line is open 10 – 5, Monday – Saturday, 2-4 Sundays. Please be patient if you don't get an instant response, we will do our best to answer your questions as quickly as possible. It may already be available if you look on the website.