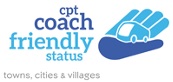 Devizes with 3 major attractions, and compact level centre is an ideal destination for groups and coaches. Awarded the CPT Coach Friendly Town Award, in March 2014, helps demonstrate that all the facilities are of a high and inspected standard:
Central coach set down and pick up bays, adjacent to Gold awarded 21 unit toilets.
21 coach parking bays, 6 of which are at the scenic Kennet and Avon Wharf Centre, next to moored boats, trip boat, canal museum and cafe, with facilities for drivers and guides.
The major attractions: Wiltshire Museum; Wadworth Brewery; Kennet and Avon Wharf Centre, (museum, café and canal boat trips) offer special rates for groups. The Wharf Centre is also the top of the famous Caen Hill flight of 29 canal locks (1 of 7 wonders of the Inland Waterways), with walking options.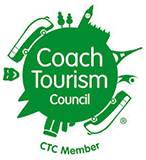 Between the attractions there are 250 shops, mainly independent, 50 Heritage Plaques, 50+ eating places (some accommodating groups, by prior notice).
For advance notice: Town Hosts to greet groups to provide information for passengers and to guide drivers and provide vouchers. Hotel accommodation for Groups at The Bear Hotel and The Castle Hotel.
Major International events during the year (see elsewhere under Events).
Devizes Area Tourism Partnership is also a member of the Coach Tourism Council.
What Devizes offers Coach and Group Operators:
Free town familiarisation tours
Free group visit itinerary recommendations
Free parking for groups of 11 or more (arranged in advance)
Free map showing 22 coach parking bays and toilets
Group visit passes with discounted entrance fees
Voucher for coach driver and tour guide (drink or meals from Wharf Centre Café or The Castle Hotel)
Highway signs at town's main routes
Key information:
Contact: Telephone: 01380 800400, Email This email address is being protected from spambots. You need JavaScript enabled to view it.
Set down/pick up coach bays: New Park Street: Postcode: SN10 1DP
Main coach parking, Wharf Centre, off New Park Street: Postcode. SN10 1DX
Overflow coach parking: Station Road Postcode SN10 1BZ