Devizes is most fortunate to be well provided with both on street and off street parking.
On street parking and in the Market Place is FREE. However, restrictions do apply.
There are marked delivery bays for commercial vehicles and disabled bays (close to retail areas)
There is also bus/coach, HGV and motorhome (RV / campervan) provision. The preferred car park is Station Road Car Park (SN10 1BZ) as it has longer bays at the far end.
There are no height restrictions except Sheep Street Car Park - 2.5m.
Car Parking charges apply from 08:00 to 18:00 Monday to Saturday.
Car Parking is free in the evenings and all day Sunday & Bank Holidays.
There are some Permit Only car parks so be warned! (Castle Lane)
Devizes has Coach Friendly status. There are 2 designated Coach/Bus (09:00-18:00) drop off points in New Park Street with a 20 minute limit. These are located on both sides of the road near The Castle Hotel and with in easy walking distance of the town centre and toilet facilities, with an additional coach stop at Wadworth Brewery for the Visitor Centre. There is also coach parking at the Wharf.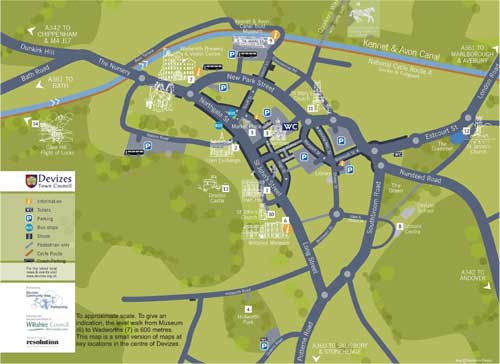 Click on the map for a bigger, printable version
On street parking is FREE. There are 3 parking zones in the town.
There are cycle hoops and wall bars for you to secure your bicycle to strategically located at different points around the town centre- there is also a covered area in West Central Car Park.
There is currently one double charge point for electric or PHEV vehicles in Station Road Car Park. Charging is free but you will have to pay the current 1 hour parking charge which is 30p.
You can download the MiPermit app on your smart phone to pay for parking (additional charges will apply).
Market Place
(SN10 1JG) - with a restricted 30 minute short stay, return within 3 hours prohibited - Motorcycle bays are at the Fountain end.
Green
- one hour stay near the centre of the town
Yellow
- two hours stay, slightly further out of the retail centre
Off Street Parking is pay and display, at the following Car Parks - (Blue badge holders get 3 hours free parking) - parking machines accept cash or text payments.
Charges start at 55p per hour

Station Road Car Park SN10 1BZ - be warned that this car park has a barrier in the middle. This makes it difficult to turn in a large vehicle. The town end is for cars and smaller vehicles and the Moyne Close (far end) is more suited to HGV's, busses, coaches and motorhomes.
PHEV POLAR charge point at the town end - 2 points. Type 2 (7kW) - you need your own cable.

The Wharf Car Park
off New Park Street SN10 1EB
West Central Car Park
off New Park Street SN10 1DT
Vales Lane Car Park
- (behind the Library & Post Office sorting office) Rendells Court, SN10 1AX
Sheep Street Car Park
SN10 1DN - Warning height restriction of 2.5 metres
Central Car Park
- (known locally as Poundland's although many people will still remember it as Tesco's), Maryport Street, SN10 1DW
Snuff Street
- (known locally as Sainsbury's) SN10 1DU