Devizes is well served by a varielty of forms of public and private transport, which link it to the villages, towns and cities beyond.
There is no railway station. See
Trains
for more information.
The main bus interchange stops are in the Market Place.
There is also coach parking available in New Park Street for short term (20 minutes) drop off and pick up of passengers.
Map of the Devizes Town bus services. If you would like a larger/printable version please click on the image below.
Inter town services are shown below.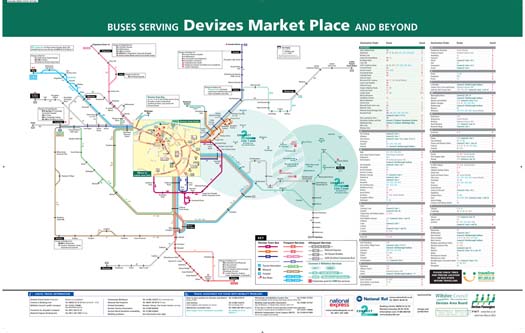 Local bus timetables


ABC Airport Services
2 Shires Close
Market Lavington
Devizes
SN10 4FB
07545 554 391
Ace Taxis
55 Longcroft Avenue
Devizes
SN10 3AS
01380 729629
Adina Taxis
01380 721034
14 Bailey Close,
Devizes, SN10 2RW
C & T Cars
01380 727345
45 Hillworth Rd., Devizes, SN10 5EY
Cobra Cabs
01380 710109
Devizes, SN10 3RU
Devizes Taxis
Station Road
Devizes
SN10 1BZ
01380 723129
Ollies Taxis
01380 728635
5 Oamaru Way,
Devizes, SN10 3DW
Rogers Taxis
01380 850450
240 Westbrook,
Bromham,
Devizes, SN15 2EB
2M J B Taxis
01225 700776
96 Baldham,
Seend,
Melksham, SN12 6PW
Airport Taxis
0800 848 8084
1 Manor Farm Cottages,
Lower Rd.,
Erlestoke,
Devizes, SN10 5UE